1,000 Dollar Loan with No Credit Check and Quick Approval
Get Emergency Loan Now
Apply Online Now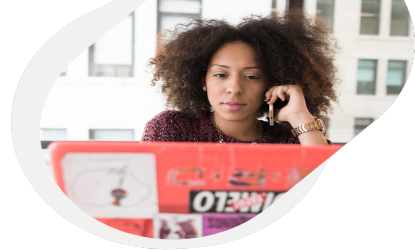 Traditional Bank Loans
Financial emergencies can hit hard. One common mistake people make is postponing to ask for help when they need money urgently. Whether you have to pay your bills or unexpected expenses, getting an instant payday loan to deal with the extra cost is more common than you might think. And if you are worried about your credit score, you should know some lenders offer loans with almost no credit check. We have analyzed and described the fastest and easiest ways to get $1,000 even with bad credit: from personal loans to payday loans with guaranteed decision from direct lenders and their alternatives.
Very few banks offer a small-dollar loan amount, especially with bad credit. Applying for an installment loan with a bank is a good option if you have a FICO credit score above 650. The larger the institution, the less likely it is for them to have options for small amounts.
There are only a couple of banks that offer loans smaller than $2,000. Citibank and PNC is one example. US Bank Simple Loan allows borrowers to get financing ranging between $100 and $500. The APR can be anywhere between 77% and 81% on average, depending on the exact amount and repayment terms. Bank loans offer lower interest rates compared to payday loans.
If you already have a checking account with the same bank you are applying for a loan; you could be eligible for a small discount.
Loans from Credit Unions
A local federal credit union can be a more suitable option for some consumers. These institutions function on a membership basis, and they offer alternative loans. In other words, their members can borrow from $200 to $1,000. The rates credit unions charge are regulated by law, so they cannot go above the 28% limit on payday alternative loans. For personal loans, the limit is 18%. These lenders will consider more factors than just your credit score.
Small-Dollar Personal Loans
A small personal loan is a fast way of getting loan amounts like $1,000, depending on the state rules and regulations. The process is quick, but the privilege comes at a higher APR than traditional bank loans. The application process is simpler, and the lender's final decision doesn't rely much on the credit score. Get a 1,000 dollar loan today and repay it in several installments for a period of 2 to 24 months. A small personal loan is best suited if you have poor credit or no credit and you're low on cash.
Alternative Ways of Getting 1,000 Dollars
Depending on your specific needs and credit history, you could opt for a less traditional method to get 1,000 dollars with no credit checks:
Ask for friends or family to lend you the amount of money you need.
Even when you borrow from someone you know, make sure you have a written agreement and loan term estimations to avoid unpleasant outcomes.
Sell an item you own.
You will need to plan things out and consider the additional fees when choosing an online service.
Ask your credit company for a check advance.
Rent out a spare room in your house.
Try getting pawn shop loans.
If you own valuable goods, pawning them for around 30% to 50% of their value can get you the needed cash. Reimbursing pawn shops on time is essential and normally set to 30 days tops. If you cannot pay the loan off, they will sell the item you pawned to close the debt.
Get a Fast $1,000 Payday Loan
When you find yourself in the situation: "i need 1,000 dollars now, asap!", a short-term cash advance is a suitable quick option. Although payday loans are not available in all states, their unique feature is lending fast, even to those who have poor credit. Applying through ASAP Finance, you can get approved for a $1,000 loan as soon as on the same day. Up to 80% of all applicants get approval. The requirements are lower than in the case of the companies lending larger amounts, and a poor credit score is accepted.
As a result, the term of your loan is also shorter - up to 30 days. If you get approved, the money will hit your bank account in record time, usually the next business day. However, if you get instant approval from one of the lenders before noon, you qualify for an online payday loan with same day deposit which means that you may get the money funded on the same day.
How to Find an Online Lender?
With ASAP Finance, the lender finds you. We act as a third party to ensure a safe connection between you and the payday lender.
The first step is filling out the loan request form with your information. All your answers should reflect the truth. Failing to provide factual information will result in your loan application being rejected.
We will distribute your loan request to the list of trusted loan lenders that we are cooperating with. They will quickly check your information and assess your qualification in receiving the loan asap. The safety of your data is a priority to us. We are using a safe connection and data protection.
A direct lender will get in contact with you shortly. They will provide you with more information on the loan terms. If you agree with the entire set of conditions, the loan will be processed.
How Soon Will I Receive The Money?
It's easy to get a 1,000 dollar fast. If you fill out the form now, finding a loan option may take less than 60 minutes. Following the instructions carefully will increase your chances of getting loan approval in about an hour, though it is not guaranteed. As soon as both you and the lender agree on the terms, you should have the money in your account within one workday.
$1,000 Loans Eligibility Requirements
A set of general requirements apply when you want to have a positive payday loan decision. You have to:
Be 18 years of age
Apply for the loan in your state of residence
Have an active bank account
Have a steady source of income
Provide your contact details (email address, phone number)
The last point is extremely critical if you want to qualify for a $1,000 loan online with bad credit. Lenders do perform standard checks.
Be aware that the eligibility criteria may vary depending on the state regulations and lender. For example, an online lender doesn't usually check your credit history thoroughly. Still, they need to see your latest employee stubs or call your employer to confirm that you pass monthly income requirements.
How to Get a $1,000 Loan with a Bad Credit Score?
Bad credit could be an issue when addressing larger financial institutions like major banks. That happens because their process is designed for larger loan amounts. Moreover, traditional lenders take more time to check your credit history. In contrast, payday loans for personal use don't focus on your credit score.
Some of the lenders only do basic credit checks through alternative credit bureaus. They do verify your employment status and salary details to estimate their risk in lending you money. Payday lenders care more about your possibility to repay the loan than about your financial records. So, you can get an instant payday loan with no hard check from a lender. On account of that, their interest rates are higher.
Tips on Getting a Quick $1,000 Dollar Loan
Short-term loans are your fast solution to getting the needed cash, even if you have bad credit. Staying informed about your options will help you bounce back from your financial difficulties.
Check what loans are available in your area
Read the requirements most lenders have
Be honest on your loan application to increase your chances of loan approval
Estimate the time you will be able to pay the loan back
Calculate the interest rate on different loan types
Take an informed decision based on information from multiple sources
Make sure to pay your lender on time
Prepare for eventual future emergency expenses ahead of time
Frequently Asked Questions
01
How can I apply for $1,000 loans?
The application process is simple and 100% online. Complete the easy form for a small personal loan on our website and wait for a reply. One of the trusted lenders in our network will contact you with a loan decision.
02
Will I get a $1,000 Loan with no credit check?
A payday loan of $1,000 is possible even with poor credit as no traditional credit check is performed. Traditional loan options are less understanding when it comes to credit scores, and they do in-depth checks. The direct lenders we put you in contact with will only do a soft credit check to evaluate your qualification.
03
How fast can I get my loan? I need $1,000 ASAP!
A $1,000 payday loan may be approved the same day, and you can receive funding in one business day or so. Just fill out the loan application, get a positive loan decision and get the money to your bank account.
04
Can I apply for more loans at once?
Usually no. It is risky for lenders to approve more than one loan per customer at a time, regardless of the loan amount. A lender will advise you to close your current debt before applying for another loan. Moreover, you can get in a debt trap, so please make smart financial decisions.
05
How much will I pay for a $1,000 loan?
There is a flat fee for small loans, and it ranges between $15 and $30 for every $100 you borrow. For a $1,000 loan, your total payment will be in the range of $1,150 and $1,300. The agreement will stipulate all the terms and conditions for your loan, including the exact interest rate.
06
Can I Get a $1,000 Loan Guaranteed?
Unfortunately, payday lenders can't completely guarantee you will get loan approval until they check your online loan application form. They need to check your credit standing and make sure your income is enough to repay a loan on time before making a loan decision. However, cash advance lenders don't perform hard credit checks through main credit bureaus, so your credit score is not an important factor.
Get $1,000 with guaranteed approval decision and instant money deposit.Take your first step today and get preapproved for a LoanApply Online NowI read and agree to Terms, Rates, Privacy Policy before submitting a loan request.